Many Outlook users have reported a situation, which is encountered while sending or receiving the emails. It generates an error 0x800ccc0f and does not allow the user to use basic emailing features. Depending on the reason of failure, Outlook generates different messages to indicate this error. In the following blog, we are going to discuss user's general query on how to fix "Outlook error 0x800ccc0f" using manual approach. A third party tool, OST Recovery tool is also discussed for faster error fix.
Different Outlook Error 0x800ccc0f
1. Outlook Error Due to Internet Connectivity
One of the most common reason behind such Outlook error is poor internet connectivity due to which Outlook cannot connect of mail server. So, while sending or receiving the emails the user face the following error:
"Your server has unexpectedly terminated the connection. Possible causes for this include server problems, network problems, or a long period of inactivity. Account: 'mail.yourdomain.com', Server: 'mail.yourdomain.com', Protocol: POP3, Port: 110, Secure(SSL): No, Error Number: 0x800CCC0F"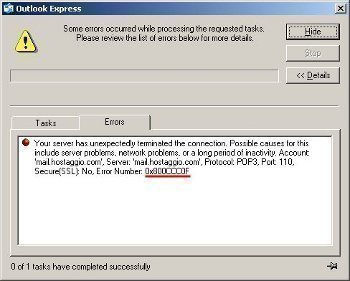 Resolution
To resolve the Outlook error 0x800cccff generated due to internet connectivity, the user must always keep the following points in mind:
Check all the cables/wireless to ensure proper connectivity
Ensure that entered user name & password are correct
Make assure that POP3 is enabled for email account
2.Outlook Error Due to Connection Interruption
Sometime, Outlook users encounter Outlook error 0x800ccc0f due to interruption in the connection and finds the following message on screen, which makes them unable to send & receive mails.
This unexpected behavior is due to anti virus protection utility, which blocks the POP3 emails and interrupts the connection to server.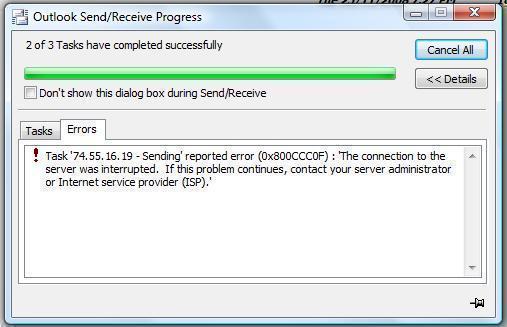 Resolution
One must disable the anti virus protection utility and the firewall so that the POP3 emails do not get blocked and can be easily accessed. To disable the Firewall, user must follow these steps:
Open Network Connection settings on Control Panel
Right click on the internet connection
Disable firewall settings from properties option.
Conclusion
Outlook error 0x800ccc0f creates much hurdle for the users, and hamper their daily activities. We have specified some manual methods to help users learn how to fix "Outlook error 0x800ccc0f" using manual approach. However to avoid such annoying situations on daily basis, the users can also go for OST to PST Conversion tool, which easily recover OST file and converts PST into Ost/EML/MSG format. The Outlook PST files can be exported in any of these formats and user can switch to other application without data loss.