Outlook Not Responding

- Know How to Fix It Easily
Sometimes many Outlook users are facing trouble while trying to open a file and send email messages in Microsoft Outlook. User might receive following error like; Outlook not responding or Outlook freezes when you open a file or send mail. There are various reasons behind Freezing stage of Outlook. Look at the below section to understand the probable causes.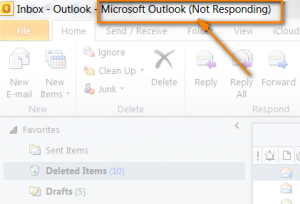 Outlook is involved in any other background processes
Mailbox of Outlook is too large
Your AppData folder is redirected to a network location
Your mailboxes are too large.
There exist corruption issues in Outlook data file
Anti-virus software is not updated
Problem occurs in User profile
Following Fixtures can be Applied to Fix "
Outlook Not Responding

" Error

Install the latest updates

Sometimes installing latest updates fix several common issues. Whether you are using any versions of Windows OS or Microsoft Outlook. Your first step is to make sure about whether latest updates are installed or not.

End Outlook.exe process

Before starting another action, you should make sure about there is no any background processes running in Outlook. You should wait till the current process finish its job. If Outlook is busy with some other action and you are trying to open Outlook it will not respond you.

Check the problem which caused by external contents

Sometimes many problem arises if Outlook downloads some external contents which are not required. To prevent Outlook from downloading external contents you should go through following steps: File >> Options >> Trust Center >> Automatic Download >> Don't download pictures or other content automatically in HTML e-mail option.

Disable your Outlook add-ins

Sometimes installed add-in creates issues, make sure to start Outlook without add-ins. It will fix several issues caused by add-ins.

Check whether your mailbox is too large

If your mailbox stores larger number of files or items in single mailbox or if your mailbox is too large then Outlook freezes when you open or send a mail or Outlook not responding.

Disable redirection of the App Data directory

Outlook has various app data to perform different kind of operations. If your network is very slow then Outlook wait for read and write operations to the AppData directory to finish. You can fix it by disabling redirection of the App Data directory.

Create a user profile in Outlook

Sometimes creating a new user profile might solve different freezing issues and error of Outlook. To create a new user profile in Outlook, you need to go through following procedures.

Go through Control Panel >> Programs >> User Accounts >> Mail to open Mail items >> click the Show Profiles >> choose the profile which you want to remove and then click Remove >> hit the add >> Enter a name for the profile

Repair Outlook Data

Outlook produces various types of error if your Outlook data file whether you are using OST or PST file is corrupted. If your file has minor corruption issues, you can use Inbox Repair Tool/ OST Integrity check tool depending upon the version of Outlook you are using. But if you want to repair majorly corrupted Outlook data file then OST to Outlook PST Conversion tool is the best tool to repair OST file, this tool will fix different issues of Outlook data file while Outlook not responding.