Why We

Don't

Repair OST File With Scanpst.exe?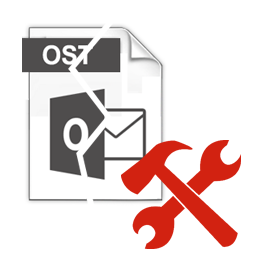 Many users of Microsoft Outlook are aware about the two types of file formats OST and PST. PST acts as a main storage of all the data in Microsoft Outlook and OST is the exact copy of data stored in Microsoft Outlook. User can continue to work and any changes made in this mode are synchronized when connects with Exchange Server.
The reasons why OST files become inaccessible are as follows:
Synchronization issues between Outlook and Exchange Server
Accidentally deleted user's account on Exchange Server
Exchange Server is down for time duration
Exchange Database is dismounted/deleted from the server
When the OST file is corrupted making it inaccessible
So some people who are unable to access the OST file tries to recover it using scanpst.exe file. We will discuss why we don't repair OST file with scanpst.exe file.
Scenario :
One Outlook user had some issue with the OST file and they scanned the OST file for errors using scanpst.exe. After scanning the OST file it showed some issues and scanpst.exe was unable fix the previous issues that existed.It worked for few errors but the scanpst.exe file is not meant for OST file and its issues.
The problem of the above scenario can be either IMAP configuration in Outlook because the OST file in the Outlook 2013 contains cached data or server connecting issue which makes these OST files inaccessible and error one. It's better to start with fresh cache rather than fixing the same file again.
Recommended Approach For The Above Scenario
In the above scenario the recommended approach to deal with the corrupted OST files is by renaming that OST file to .old when the Outlook application is closed and let the Outlook rebuild that file from the Outlook server again. It is only reliable approach available because scanost.exe file no longer exist after Outlook 2010.
Location of OST file by default is:
For Windows 7 and later users
C:\Users\%username%\AppData\Local\Microsoft\Outlook\
For Windows XP users
C:\Documents and Settings\%username%\Local Settings\Application Data\Microsoft\Outlook\
How Does Scanpst.exe Works ?
Basically scanpst.exe file is used to scan for PST files in Outlook. If a user has some error in the PST file then scanpst.exe helps in solving those issues. So, it's recommended that Outlook users who have the issue in the OST file should not scan the OST file using scanpst.exe.
Repair The OST File Rather Than Rebuild
It is not possible that an OST file can repaired using scanpst.exe. But, still if the user has a large mailbox and using slow internet connection then they can give scanpst.exe a try.
Use of Third Party Tool
When the user only have OST files and don't repair ost with scanpst.exe as it can't fix major issues of OST file. Hence, we recommend the use of third party tool which will not only recover the corrupted OST file but also convert OST file to PST file. There are various tools available in the market but OST recovery tool stands out all of them.